2023 Hero RF 125
Sold in Pakistan = 2022-Present
Technology = Euro-II, KickStart
Hero Bikes Official Contact: Phone No:

+92-22-111-696-969, (022) 3886844
2023 Hero RF 125 Price in Pakistan
Hero Company, a subsidiary of the Fatah Group in Pakistan, deals in textiles, pharmaceuticals, and motors. It was established in Lahore in 2002. Hero Motorcycles offers four popular bikes in Pakistan, including the Plus 90, RF 125, RF 70, and Splander 100. Among them and other bikes of the same class, the Hero RF 125 is one of the most affordable 125cc bikes in Pakistan. It has a 4-stroke, single-cylinder engine with kick-start technology, an attractive design, and offers an efficient ride.
The Hero RF 125 has an economy-power engine that offers one of the most economical rides compared to its competitors. The model of RF 125 has new graphic stickers added to its body, making it more appealing to customers. Although it has a similar design to Honda CG-125, it is available at a lower price. It competes with Ravi Piaggio Storm 125, Kawasaki GTO 125, Crown 125, and Aprilia RS 125, but the Hero RF 125 stands out due to its build quality and affordability.
The Hero RF 125 has not undergone drastic changes, except for the addition of new graphic stickers on the fuel tank. It is famous for its affordable price and impressive fuel average, making it a popular choice among people from every class. The spare parts for the bike are easily available, and servicing can be done by nearby mechanics.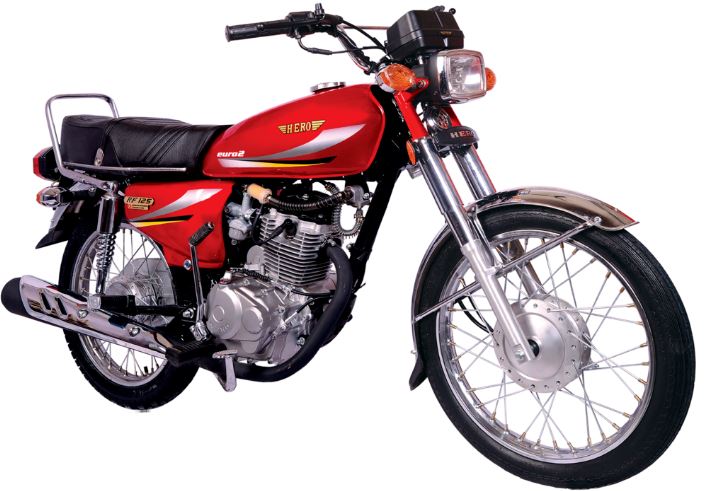 Engine & Performance:
The Hero RF 125 has a powerful 5-stroke, 125cc engine that generates 11 hp power at 8500 RPM and 12 Nm torque at 7000 RPM. It offers a 5-speed transmission and a wet-type multi-plate clutch, and the transmission is smooth and precise. It offers kick-start technology, and the engine starts quickly. However, it does not have electric start technology. The ride quality of the bike is impressive, with its stiff suspension designed for the country's roads, making the ride comfortable even on bumpy roads. The bike has drum brakes on the front and rear, ensuring comfort during riding.
Fuel Average & Top Speed:
The Hero RF 125 has a fuel tank capacity of 12 liters, making it one of the most economical 125cc bikes in terms of fuel efficiency. It gives a mileage of 40 kilometers per liter and has a top speed of 110 kilometers per hour. It is suitable for both short and long-distance travel and works best within the city when riding at moderate speeds. It is also used for family use in Pakistan.
Exterior Design & Build Quality:
 The Hero RF 125 boasts excellent build quality that distinguishes it from other Chinese bikes. It measures 1911 millimeters in length, 732 millimeters in width, and 1016 millimeters in height, with a ground clearance of 140 millimeters. Its traditional 125cc bike design resembles the Honda CG 125, featuring a regular headlamp and taillight with new graphics that add a sporty look. Although nothing particularly stands out in its design, the bike's speedometer is simple and traditional, and the seats are well-padded for passenger comfort. The fuel tank is thoughtfully designed to provide more space for passengers, and the bike is ergonomically designed for comfortable riding. It comes in two exterior colors, red and black, giving you the choice to choose your favorite.
User Reviews:
Overall, users are satisfied with the Hero RF 125's performance. They appreciate its affordability and fuel economy, as well as its engine power and comfortable ride. They are not concerned about bike maintenance since its spare parts are readily available throughout the country, and the bike's resale value is not bad. However, some users are not satisfied with the bike's performance on rough roads, as the ride can be bumpy on uneven terrain, but it does not stop entirely on rough roads. While the Hero RF 125's fuel economy is good, the fuel average drops when riding in traffic, and the bike is turned on and off frequently. Some users desire changes to the bike's traditional design, as they find it unexciting. Overall, the Hero RF 125 is considered a great 125cc bike in your budget, offering all the features and good ride quality.
Pros & Cons:
Pros:
Excellent Build Quality
Economical
Powerful Engine
Cons:
Same Standard Shape
Low on Average on high Speed
Major Competitors: