2023 Power PK70
Sold in Pakistan: 2018-Present
Technology: 4 stroke air cooled Euro
2023 Power PK 70 Price in Pakistan
Kausar Automobiles Private Limited has been in the automobile sector for the past few years with the name Power and has set up their assembly plant near Lahore that manufactures five hundred motorbikes per day and spare parts for Auto Rickshaws. The Power motorbikes are much more affordable, and as the 70cc bikes are getting many options in markets, every other company is introducing their 70CC bikes to meet up with the competition. Similarly, Power motorbikes have introduced their Power PK70 to give tough competition to all 70cc bikes. The Power PK70 has a 4-stroke air-cooled engine. It comes in two one-color options that are red and black and has a stylish design. It is made comfortable with higher ground clearance and provides more road stability. The target audience of Power PK70 is wide, and its demand is increasing every day because of its affordability. Power PK70 gives you high fuel efficiency, and its utility is made affordable to the users, increasing its demand in the lower working class. The latest model of Power Pk70 has some stylish graphics added on the fuel tank and side covers, and other than this small detailing, the new model of Power PK70 is similar to the previous model. It competes mostly against ZXMCO ZX 70 City Rider, Sohrab JS 70, Road Prince 70 Passion Plus, and Pak Hero PH70.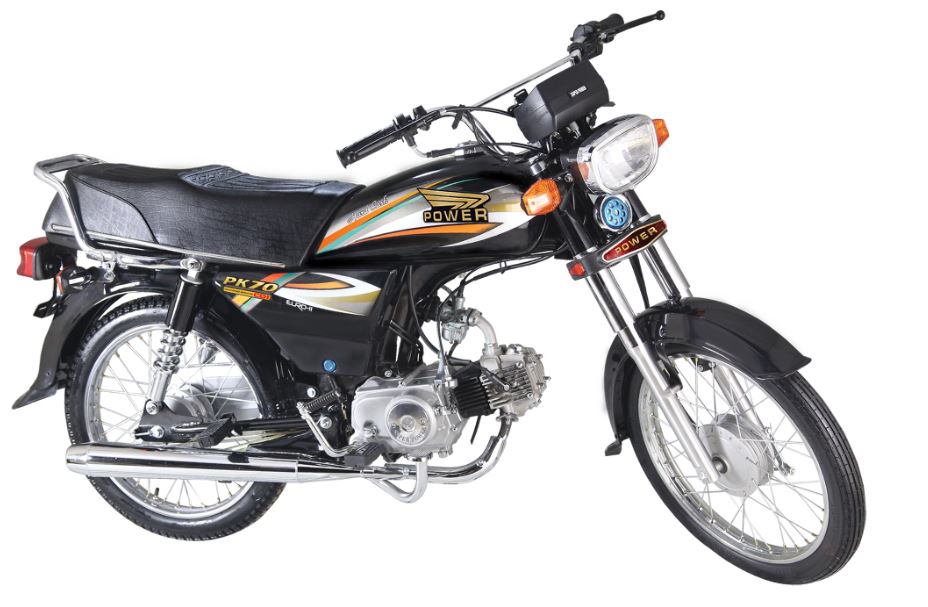 Engine & Performance:
The Power PK70 gets its power from a 4-stroke, 78cc, OHC, air-cooled single-cylinder engine that generates maximum power of 7.0 ps at 8500 RPM and a torque of 0.551 gm per 6500 RPM. It has a CDI electronic control ignition system and offers a 4-speed rarely mesh manual transmission. The transmission system is smooth and changes gears firmly, keeping the ride's quality good. It offers a kick-start technology likewise offered in other 70cc bikes, and the good part is that its kick-start system is as easy to operate and starts the engine with fewer efforts. The handlebars are strong, and you can control the bike confidently the bike gives you firm handling and a stronger road grip, so you can enjoy your trips. The Power PK70 is not only a power booster bike for within-city travel, but users use it for traveling from one city to another.
Mileage & Top Speed:
The Power PK70's engine has air-cooled technology and enhances fuel efficiency by consuming less fuel. The bike has impressive storage for fuel, with a fuel tank capacity of 10 liters, and gives you a mileage of 65 kilometers per liter. This mileage in one liter of petrol is much more impressive, and users can move to their destinations at less price.
Exterior Design & Build Quality:
The Power PK70 has a sleek design with beautiful new sticker designs added to its exterior. It is available in red and black color options. The Power nameplate is encrypted beautifully on the fuel tank, and its seat is made more comfortable than before, however, it is still a bit uncomfortable for long-distance journeys. The seat height is enough for the riders to ride the bike confidently, and the front headlight gives bright light to illuminate the dark roads. This bike has multiple uses and can be used as a family bike as the back seat can accommodate two to three children as practiced in our country because the passenger space is good enough. It is also used for doing everyday chores. The Power PK70 has a dry weight of 82 kilograms and a ground clearance of 35 millimeters. The overall length of this bike is 1885 millimeters, its width is 760 millimeters, and its height is 990 millimeters. The tires at the front and back are seventeen inches in size and provide good road grip.
USER Reviews:
The reviews of Power PK70 are mixed, with both good and bad comments from the users. The style and value for money are appreciated by all users. Its affordability makes it more demanding in the market, but some users are unsatisfied with it. They found its fuel efficiency less than claimed fuel efficiency, and they got only 30 kilometers in one liter. Another complaint against Power PK70 is the uncomfortable seat that makes the journey tiring. Users found it to be best when running at low speeds but riding it at higher speeds can produce vibrations. There is a shock absorber in Power PK70 that absorbs all major bumps and breakers, and you will not feel many of them. The Power PK70 has all spare parts available throughout the country at cheaper rates, and you can buy them directly from Power automobiles also. The resale value of Power PK70 is good because of its affordability. The wet-type clutch plates also work fine. The bike's handling is loved by the users, but as mentioned above, the bike's handling can be affected when riding it at higher speeds.
Major Competitors: