2023 Yamaha YBR 125G
Sold in Pakistan = 2015-Present
Technology = 4 Stroke Euro-II
2023 Yamaha YBR 125G Price in Pakistan
Price Effective From 02-May-2023
| | |
| --- | --- |
| Yamaha YBR 125 | 391,500/- PKR |
| Yamaha YBR 125G Black & Red | 407,000/- PKR  |
| Yamaha YBR 125G DARK Gray | 410,000/- PKR |
Yamaha YBR 125G was introduced as a dual-sport version of the normal Yamaha YBR 125 in 2010, and it offered improved off-road performance. It has a 4-stroke engine same as the Yamaha YBR 125's engine. It has a beautiful and sporty design with a dual front fender, handguards, and new block pattern tires. The present Yamaha YBR 12G comes with new graphic stickers that make it look more attractive and is available in three striking colors. The Yamaha YBR 125G latest model has a new look with exclusive features that make the competition challenging in the market. It takes you to your adventures with a thrill, giving all those adventure lovers an exciting opportunity by generating enough power to flaunt your adventure. The Yamaha Riders Club gives exclusive training via trained instructors to the riders so you can have an exhilarating experience in your adventures. The new Yamaha YBR 125G is available at all Yamaha dealership networks. It is also available at Daraz Mall, where you can purchase it in installments. The global Yamaha YBR 125G has a similar design as the Pakistani Yamaha YBR 125G, and it comes with a headlight guard, front fender, engine guard, and rear carrier. The Yamaha YBR 125G is designed for passionate bikers and has powerful shocks to give you a smooth ride. It comes with electric start and kick-start technology and is built especially for off-road riding. APART FROM OFF-ROAD ADVENTURES, Yamaha YBR 125G can be used for daily commutes and family use. Thus, it is a versatile bike that ensures one thing for you: your comfort. Some of its Major Competitors are; Suzuki GD 110S, Honda CB 12F, and Suzuki GS 150SE. The fuel consumption, transmission, and suspension of the Yamaha YBR 125G are better than its competitors, but the resale value of Honda and Suzuki bikes is higher than Yamaha bikes.
Engin, Power & Drive:
The Yamaha YBR 125G gets power from a 4-stroke, SOHC, air-cooled, 124cc engine having a 12V DC-CDI ignition system. It generates 10.7 hp of power at 7500 RPM and 10.4 Nm of torque at 6500 RPM. It has a compression ratio of 10:0:1 and a wet-type multi-plate clutch. The Yamaha YBR 125G comes with long shock absorbers with rubber boots at the front that makes your adventures more comfortable by absorbing all bumps and irregularities of the road. A five-step adjustable suspension gives you maximum comfort with telescopic coil spring suspension at the front and swingarm coil spring suspension at the rear. With electric-start technology, you can start your bike quickly, so less time is taken to switch on your bike in dense traffics. The 143 millimeters of ground clearance take you through off-road tracks comfortably. The halogen headlight brightens the road with a parking lamp, and the light is sufficient enough to take you through the dark streets. The Yamaha YBR 125G gives you confident handling on roads. The smaller wheelbase of the Yamaha YBR 125G might challenge its stability, but it helps in its swiftness and better strength, especially when turning on twisty roads. The block-pattern Yamaha tires provide a better grip and make your journeys comfortable. The braking system of Yamaha YBR 125G is efficient with a single disc brake at the front and a drum brake at the rear.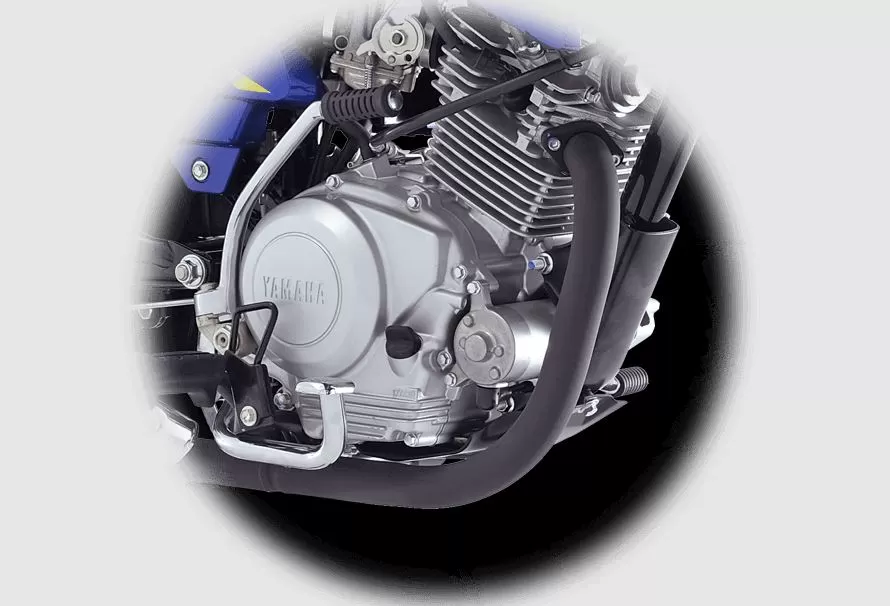 Mileage & Top Speed:
The Yamaha YBR 125G comes with a fuel tank capacity of 13 liters and gives an estimated mileage of 50 kilometers per liter. It gives you a top speed of 120 kilometers per hour.
Exterior Design & Build Quality:
The Yamaha YBR 125G comes with 1990 millimeters of length, 745 millimeters of height, and 1080 millimeters of width. It has a sporty design with two fenders at the front, elongated shock absorbers with rubber boots at the front, and a 5-step adjustment suspension at the rear. The double fenders at the front keep the rider free from mud and road dirt so he can ride the bike confidently. The engine guard protects the engine, and the chrome protector muffler gives it a stylish look. Two-stylish meters in the front show the gear indicator and fuel gauge. The round halogen headlamp looks striking, and the block-pattern tires make it more attractive with cast wheels. It is available in black metallic, vivid cocktail red, and racing blue colors. There is a large carrier on the back, providing well-balanced support to the passengers, and also carrying heavy loads. The Yamaha YBR 125G's build quality is not bad, and you don't have to worry much about its maintenance. The resale value of the Yamaha YBR 125G is good in Pakistani automobile markets, and the spare parts are also readily available throughout the country. The resale value of the Yamaha YBR 125G is good but not more than the Suzuki and Honda bikes; that's why they are considered better than Yamaha bikes. Still, if you consider the off-road performance and long-route adventures, you will go for Yamaha YBR 125G.
Pros & Cons:
Pros:
Sporty Looks
Good Fuel Economy
Excellent Road Grip
Smooth Riding Experience
Best for offroading
Better Suspensions than competitors
Cons:
Expensive in its category
Expensive Maintenance and Spare Parts
It less Initial Pick as compared to Honda 125
The fuel gauge is not very stable.
Major Competitors: