2023 Yamaha YBR 125G
Sold in Pakistan = 2015-Present
Technology = 4 Stroke Euro-II
2023 Yamaha YBR 125G Price in Pakistan
Price Effective From 06-Sep-2023
| | |
| --- | --- |
| Yamaha YBR 125 | 435,500/- PKR |
| Yamaha YBR 125G Black & Red | 453,000/- PKR  |
| Yamaha YBR 125G DARK Gray | 456,000/- PKR |
The Yamaha YBR 125G was introduced in 2010 as a dual-sport version of the regular Yamaha YBR 125. It aimed to provide improved off-road performance while maintaining the reliable 4-stroke engine found in the Yamaha YBR 125. The bike features a striking and sporty design, with notable elements such as dual front fenders, handguards, and new block pattern tires. The latest model of the Yamaha YBR 125G showcases new graphic stickers that enhance its overall visual appeal, and it is available in three eye-catching colors. With its exclusive features and updated design, the Yamaha YBR 125G presents a tough competition in the market. It is built to cater to adventure lovers, providing the power and thrill necessary to conquer various terrains. To further enhance the riding experience, Yamaha offers exclusive training programs through the Yamaha Riders Club, where trained instructors provide guidance and expertise to riders. This ensures that riders can enjoy exhilarating adventures while prioritizing safety and skill development.
The Yamaha YBR 125G can be purchased at Yamaha dealership networks, and it is also available for purchase in installments through Daraz Mall. It is worth noting that the global version of the Yamaha YBR 125G shares a similar design with the Pakistani model, including features like a headlight guard, front fender, engine guard, and rear carrier. These additional components enhance the bike's functionality and utility. The Yamaha YBR 125G is designed to cater to passionate bikers and is equipped with powerful shocks to provide a smooth and comfortable ride, particularly in off-road conditions. It offers the convenience of both electric start and kick-start technologies, ensuring reliable starting options for riders. The versatility of the Yamaha YBR 125G extends beyond off-road adventures, as it can be used for daily commutes and family rides, showcasing its adaptability and practicality.
In terms of competition, major rivals of the Yamaha YBR 125G include the Suzuki GD 110S, Honda CB 12F, and Suzuki GS 150SE. The Yamaha YBR 125G outperforms its competitors in fuel consumption, transmission performance, and suspension capabilities. However, it is important to note that Honda and Suzuki bikes tend to have higher resale values compared to Yamaha bikes in the market.
Engin, Power & Drive:
The Yamaha YBR 125G is equipped with a powerful 4-stroke, SOHC (Single Overhead Camshaft), air-cooled engine with a displacement of 124cc. The engine incorporates a 12V DC-CDI (Direct Current-Capacitor Discharge Ignition) ignition system, ensuring reliable and efficient spark generation for optimal performance. It delivers a power output of 10.7 horsepower at 7500 RPM and a torque of 10.4 Nm at 6500 RPM. The bike features a wet-type multi-plate clutch, which provides smooth and precise shifting through its five-speed manual transmission. This enables riders to effortlessly control the bike's speed and adapt to various riding conditions.
One of the key highlights of the Yamaha YBR 125G is its suspension system, designed to enhance comfort and stability during adventurous rides. The front suspension consists of long shock absorbers with rubber boots, effectively absorbing shocks and vibrations from bumps and irregularities on the road. The rear suspension is a swingarm coil spring suspension, which further contributes to a smooth and comfortable ride. Additionally, the suspension is five-step adjustable, allowing riders to customize the setup according to their preferences and riding conditions. The Yamaha YBR 125G features electric-start technology, enabling riders to start the bike quickly and conveniently, especially in dense traffic situations. This eliminates the need for a kick-start mechanism and saves time and effort. With a ground clearance of 143 millimeters, the Yamaha YBR 125G offers ample height to tackle off-road tracks comfortably, providing sufficient clearance over obstacles and uneven surfaces.
The bike is equipped with a halogen headlight that offers bright illumination for nighttime riding. The headlight also incorporates a parking lamp, ensuring visibility and safety during low-light conditions. The lighting system is designed to effectively light up the road and surrounding areas, enabling riders to navigate confidently. Despite having a smaller wheelbase, which may challenge stability to some extent, the Yamaha YBR 125G compensates with enhanced swiftness and agility, particularly when maneuvering through twisty roads. The bike's smaller wheelbase contributes to better handling and a more responsive ride. The Yamaha YBR 125G is equipped with block-pattern tires, designed to provide superior grip on various surfaces. These tires enhance stability and ensure a comfortable and controlled ride, both on and off-road.
The braking system of the Yamaha YBR 125G is efficient, with a single disc brake at the front and a drum brake at the rear. This combination provides reliable stopping power, allowing riders to safely control their speed and bring the bike to a halt when needed.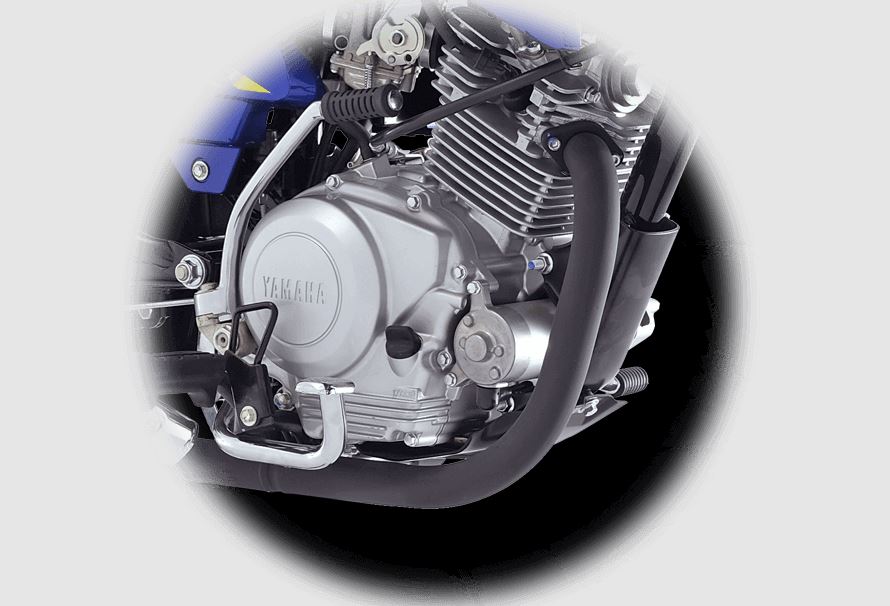 Mileage & Top Speed:
The Yamaha YBR 125G comes with a fuel tank capacity of 13 liters and gives an estimated mileage of 50 kilometers per liter. It gives you a top speed of 120 kilometers per hour.
Exterior Design & Build Quality:
The Yamaha YBR 125G is designed with dimensions that contribute to its sporty and robust appearance. It measures approximately 1990 millimeters in length, 745 millimeters in height, and 1080 millimeters in width, providing a well-proportioned and dynamic stance on the road. The bike's sporty design is accentuated by the presence of two fenders at the front, which serve the dual purpose of adding to its aesthetic appeal and keeping the rider protected from mud and road dirt. This allows riders to maintain a clean and confident riding experience in various conditions. To ensure a comfortable ride, the Yamaha YBR 125G is equipped with elongated shock absorbers at the front, which come with rubber boots. These shock absorbers effectively absorb shocks and vibrations from the road, resulting in a smoother and more pleasant riding experience. At the rear, the bike features a 5-step adjustable suspension, providing riders with the ability to customize their ride quality and comfort according to their preferences.
The double fenders, elongated shock absorbers, and protective engine guard contribute to the bike's durability and functional design. Additionally, the chrome protector muffler adds a touch of style, enhancing the overall visual appeal of the Yamaha YBR 125G. The front of the bike features two stylish meters, which display important information such as the gear indicator and fuel gauge. These meters provide riders with necessary information at a glance, ensuring they can monitor their riding parameters effectively. The Yamaha YBR 125G comes with a round halogen headlamp, which not only enhances visibility during nighttime riding but also adds to the bike's striking appearance. The block-pattern tires, paired with cast wheels, not only provide an attractive look but also contribute to the bike's overall performance and grip on various road surfaces.
The Yamaha YBR 125G is available in three captivating colors: black metallic, vivid cocktail red, and racing blue. These color options give riders the freedom to choose the one that resonates with their personal style and preference. For added practicality, the bike features a large carrier at the back, providing ample space and balanced support for passengers or the transportation of heavy loads. This feature enhances the bike's utility and versatility. The build quality of the Yamaha YBR 125G is reliable, offering durability and longevity. Furthermore, maintenance for the bike is generally manageable, providing riders with a hassle-free ownership experience. In terms of resale value, the Yamaha YBR 125G holds its own in the Pakistani automobile market, though it may not exceed that of certain Suzuki and Honda bikes. However, for riders who prioritize off-road performance and long-route adventures, the Yamaha YBR 125G remains an attractive choice.
Overall, the Yamaha YBR 125G combines sporty design, off-road capability, and practical features to provide riders with a versatile and exciting riding experience.
Pros & Cons:
Pros:
Sporty Looks
Good Fuel Economy
Excellent Road Grip
Smooth Riding Experience
Best for offroading
Better Suspensions than competitors
Cons:
Expensive in its category
Expensive Maintenance and Spare Parts
It less Initial Pick as compared to Honda 125
The fuel gauge is not very stable.
Major Competitors: