2023 Metro MR 125
Sold in Pakistan = 2012-Present
Technology = Euro-II, Kick Start (OHV Air Cooled Four stroke)
2023 Metro MR 125 Price in Pakistan
Metro Motorcycles have been known for manufacturing exquisite structure bikes with excellent performance. The demand for Metro motorcycles has increased over the last couple of years because customers have been trusting Metro bikes more. The rates of their bikes have increased from last year because of the overall inflation rate in the country, but the prices are still reasonable. The Metro MR 125 is a 4-stroke engine bike that offers a list of features any expensive Chinese bike offer. The Metro MR 125 offers waterproof safety bags and a mobile phone charger and is available at an economical price that is not available in any other motorbike. The Metro MR 125 has excellent build quality and comfortable ride quality. The new multicolor graphics in the Metro MR 125 looks attractive, and the new petrol tank is beautiful. It has a stylish speedometer with an economic zone and a Wi-Fi link. The speedometer is updated, tells you about speed and RPM, and gives accurate readings. Its design resembles with Honda CG 125. It offers a one-year limited warranty, which makes it a reliable bike, and customers trust the brand when purchasing 125cc bikes. It comes with a comfortable seat and provides maximum comfort to the passengers. The Metro MR 125's price is increased from last year's rates, but it is still affordable to the customers and cheaper than heavy Chinse bikes. The Metro offers three different color options for MR 125, and you can get blue color along with red and black. The Metro MR 125 is suitable for long and short-distance travel and efficiently performs wherever you go. It comes with Euro II technology and helps to improve fuel efficiency. The Metro MR 125 offers many latest features that expensive Chinese bikes offer. Still, the good thing about Metro MR 125 is that it is available at a comparatively less price and makes it affordable to customers of every class. It is suitable for family use and runs well on country roads. The spare parts of Metro MR 125 are available readily all over the country, and the bike can be purchased from dealers throughout Pakistan.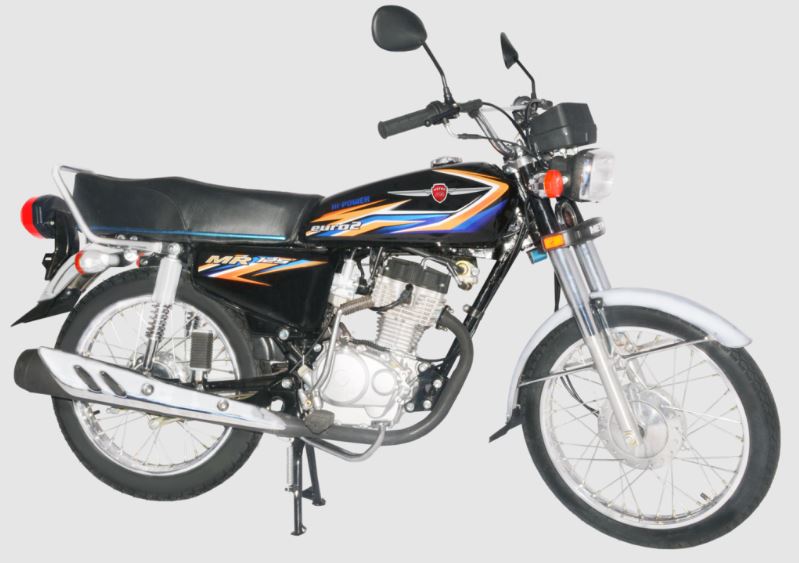 Engine & Performance:
The Metro MR 125 has a single-cylinder, four-stroke, two-valve, air-cooled 125cc engine that generates 12 hp power at 8500 RPM and 12 Nm torque at 7500 RPM. It offers a 4-speed manual transmission and has a wet-type multi-plate clutch. The gear changes smoothly and keeps the ride quality smooth. Unlike other traditional bikes, it offers kick-start technology and starts the engine quickly. The electric-start technology is not available in it yet. The 2023 bike has an improved valve set. It has telescopic fork suspension at the front and swing arm suspension at the rear, and the adjustable shocks absorb the bumps and jolts so you can enjoy a smooth performance regardless of the road condition. The drum brakes are efficient and apply brakes smoothly. The Metro MR 125 offers a reliable ride performance that an expensive bike offers, so customers love Metro MR 125, and its demand is increasing. The bike's handling maneuvers are great, and handle grip bars are improved so the rider can control the bike confidently.
Fuel Average & Top Speed:
The Metro MR 125 has a fuel tank capacity of 10 liters, giving a top speed of up to 110 kilometers per hour. The Metro MR 125's fuel average is 40 kilometers per liter, but it gives less mileage than claimed, and its mileage decreases when riding in traffic and during rush traffic hours.
Exterior Design & Build Quality:
The Metro MR 125 has a revised exterior design with new multi-colored graphics and attractive fuel tank. The bike has a 1900-millimeter length, 730-millimeter width, and 1020-millimeter height with a ground clearance of 140 millimeters. It is available in red, black, and blue exterior colors, and the blue color is rare, which is not available in all 125cc bikes. It has a traditional design that resembles Honda CG 125. The big headlamps and stylish taillights look elegant, and the speedometer is attractive with clear graphics. Its seat is well-cushioned and made more comfortable than before with a rear grip so passengers at the back can sit comfortably with rear support. It provides mobile phone chargers and Wi-Fi links so passengers can charge their phones anywhere. This feature is unavailable in other Chinese bikes, making Metro MR 125 superior to all. One of the best things about Metro MR 125 is its durability which makes its build quality excellent and attracts many customers.
User Reviews:
Most users are satisfied with the Metro MR 125's performance. They like its comfort, performance, and value for money. Its style is outdated, and there is nothing different in its design as compared to its competitors. Users love its build quality and are not worried about its maintenance because the bike is durable and shows fewer problems than other bikes. The spare parts of the bike are available easily, and its maintenance cost is less. The bike's resale value is promising, and most importantly, the Metro MR 125's cost is affordable to many customers. Users are unsatisfied with its fuel efficiency and found its fuel average to be less than expected. It is slightly underpowered and can affect the ride quality when the road is bumpy.
Pros & Cons:
Pros:
Excellent Build Quality
Comfort Ride Quality
Economical
Same shape and sound as Honda CG 125
Cons:
Slightly Underpowered
Not so Fuel Efficient
Same Standard Shape
Major Competitors:
Warranty:
The Metro MR 125 has a price of over lacs Pakistani rupees and comes with a limited warranty period of one year.