Honda ACTY
Sold in Pakistan = 2009-2019 (As Import Model)
Generation = 3rd (Discontinued)
Honda Acty price in Pakistan =

10-15 lac PKR

(Depending Upon the Condition & Model Year)
Honda Acty was introduced in 1977, and it includes a series of cab-over microvans. It was specifically produced for the Japanese domestic market, but it was also exported to different countries, including Pakistan. Currently, the fourth generation of Honda ACTY is available in Japan that-made its first debut in 2009. The fourth generation of ACTY was given a restyling in 2018, and the all-new light-commercial ACTY Truck was launched in November 2019. The Honda ACTY Van is also very popular in Pakistani automobile markets as it has been designed to be economical and luxurious. It is a versatile vehicle as it can be used as a school van or for transporting goods for commercial purposes. The Honda ACTY truck is popular for its spacious loading platform that can transport several items for your daily commercial purposes. The production of Honda ACTY Van has stopped, and only used models are available in the markets. The other vehicles in the ACTY series of Honda will also be discontinued from June 2021 because crash mitigation and new emissions regulations are missing in these, and installation will increase the overall price of Honda ACTY that is not in favor. The 2021 model of Honda ACTY Truck and Honda Acty specially equipped vehicles can be imported directly to Pakistan from Tokyo bases Honda dealers in Japan.
Vehicles included in series of Honda ACTY:
Honda ACTY Van

Honda ACTY Truck
Honda ACTY Van:
Honda Acty imported vans are available in the latest 3rd generation, which was discontinued in 2020, and only used models are available for purchase. The latest model of Honda ACTY Van comes in three trim levels that include attack-trim, SDX-trim, and town-trim.
Engine & Power:
 Honda Acty has powered by a 660 cc, 12 valves, SOHC inline-4 petrol cylinder engine that produces 52 horsepower at 5500 RPM. It offers you three transmission options that include five-speed manual transmission, three-speed automatic transmission, and four-speed automatic transmission. 
Exterior Design & features:
Honda ACTY Van features a minimalistic design. The front-end of the vehicle features a rectangular grille in the center and square-shaped headlights on its sides. The rear end has a low-mounted bumper that has equally beautiful rectangular tail lights on both sides. The vehicle features sliding doors.
Interior Design & features:
The interior cabin is equipped with fabric-covered seats. There are two seats at the front and two rows of seats at the rear compartment. The color theme for the cabin is limited to beige, and black-color and plastic trims can be seen throughout the cabin. The standard features of the ACTY van include power door locks, power steering, tachometer, air conditioning, and audio controls. Higher-end trim also features airbags, four-wheel-drive, and comfortable rear seats. It can give you a mileage of 14 kilometers per liter with a fuel tank capacity of forty liters.
Major competitors:
Honda Acty Truck
Worldwide sold = 2009-2021

Generation = 4th

 (NOT AVAILABLE IN PAKISTAN)
The Honda Acty Truck 2021 is known for its comfortability and loading capacity. It is available in two trim levels that are SDX four-wheel-drive and Town Two-wheel-drive.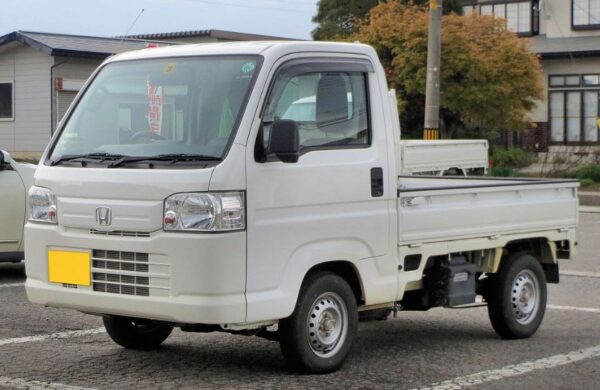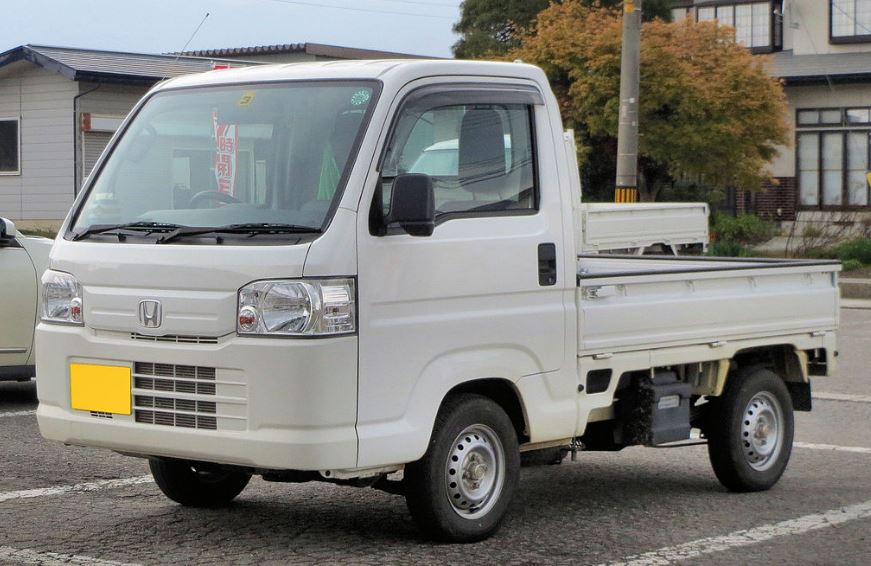 Engine & Power:
 It is powered by 660 cc E07Z, SOHC, three cylinders, a twelve-valve engine that produces a maximum power of 33 kW at 5500 RPM and maximum torque of 59 Nm at 5000 RPM.
Performance & Drive:
 It drives normally in a two-wheel-drive feature, but it can automatically switch to a four-wheel-drive when the condition of roads becomes unfavorable. There is the addition of ultra-low speed gear that increases the torque. It then improves driving performance when the wheels slip and stuck in mud, snow, or sand. In this vehicle, the rear wheels are the driving wheels and are loaded even when there is no luggage loaded in its cargo. Honda ACTY truck ensures a stable ride with its improved suspension system even when a lot of loaded. It features an Anti-lock Braking System with Electronic Brake Force Distribution that assists drivers in braking operations, and the truck also has multi-reflector halogen headlights that increase the illumination at night.
Exterior Interior features & Design:
 It is a two-door vehicle whose cabin has equipped with all the items that make you comfortable in your everyday work. Talking about the real attraction of this truck, which is its loading platform. The loading platform is 1940 millimeters in length and 1410 millimeters in width. The loading platform also offers you work light on the front, sidestep, large tilt handle, tow hook, five rear hopes, Michi board hook, and selectable torii-torii with sturdy guard pipe. The body of the truck is painted with anti-corrosive wax that prevents it from rusting. Overall the Honda ACTY truck is a safe vehicle that is used mainly for commercial purposes and the durability of Japan's imported trucks is the best in the town that making its demand high in the market.
Major competitors:
Honda ACTY specially equipped vehicle:
The specially equipped Honda Acty works as a lifter or a fresh delivery vehicle. The lifter V comes in either two-wheel drive or four-wheel drive. The engine specs of this lifter are similar to the Acty Truck. The loading platform has an overall length of 1890 millimeters and 1410 millimeters in width. There is also a remote control for lifting operations, and the remote control compartment is fixed at the rear that lifts the load automatically once loaded on the lifter. All the features of this lifter are the same as the standard ACTY truck. It is available at a starting price of 14,03,600 yen in Japan. Another vehicle available in this series is a fresh delivery vehicle equipped with a freezing or cold compartment in its rear that comes with a drainage pipe, well-drained wooden drainboard, rear stopper, and one-touch sliding door. There is an emergency buzzer at its back 1, a high mount stop lamp, and a urethane foam injection panel that comes with excellent heat insulation. The freezing store has a temperature up to minus 5 degrees Celsius, and it comes with a sliding door. It can deliver fresh meat and food anywhere. The driving performance and engine specs of this special truck are similar to the normal ACTY truck. It comes in two-wheel-drive or four-wheel-drive options with five-speed manual transmission and three-speed automatic transmission. The starting price of this fresh delivery ACTY truck is 1,293,600 yen in Japan. These fresh-delivery trucks can also be imported at a competitive price directly from Tokyo-based Honda dealers in Japan.