2023 Ghani GI 70 
Sold in Pakistan = 2022-Present
Technology = 4 strokes, air-cooled Euro-II
2023 Ghani GI 70 Price in Pakistan
| | |
| --- | --- |
| Ghani GI 70 Standard | 84,000/- PKR |
| Ghani GI 70 Self Start | 98,000/- PKR |
Ghani Motorcycles is a well-established and highly regarded brand in Pakistan, specializing in the production of motorcycles since 2004. Renowned for its commitment to delivering economical and budget-friendly bikes that cater to the diverse needs of customers, Ghani Motorcycles has carved a niche for itself in the market. One of the most popular offerings from Ghani Motorcycles is the Ghani GI 70, a motorcycle specifically designed for efficient and hassle-free daily commuting. Boasting a 70cc engine, this bike strikes a balance between performance and fuel efficiency, ensuring a reliable and cost-effective ride. Durability, ease of maintenance, and affordability are the key hallmarks of the Ghani GI 70, making it a preferred choice among budget-conscious riders across Pakistan. With its simple and practical design, this motorcycle guarantees a smooth and comfortable riding experience, perfectly suited for navigating bustling city streets.
Equipped with a manual transmission featuring a four-speed gearbox, the Ghani GI 70 delivers ample power tailored to meet the demands of urban riding conditions. Assembled locally by Ghani Motors, this bike competes with Chinese counterparts such as the ZXMCO ZX 7, Unique Xtreme UD 70, and Super Power SP 70. While boasting a traditional appearance reminiscent of classic 70cc bikes, the Ghani GI 70 stands out with its more affordable price tag compared to its competitors. While the maintenance costs of the Ghani GI 70 remain relatively low, it is worth noting that readily available spare parts may be somewhat challenging to find. However, despite this minor inconvenience, Ghani Motorcycles strives to ensure that its customers have access to the necessary components and support to keep their bikes in optimal condition. The 2023 version of the Ghani GI 70 features new and captivating graphics on its fuel tank, enhancing its overall aesthetic appeal. Customers can choose from two striking exterior colors: red and black. To acquire your very own Ghani GI 70, you can visit any authorized Ghani dealership located throughout the country. Ghani Motorcycles' headquarters is situated in Lahore, serving as the hub of their operations.
In summary, Ghani Motorcycles has established itself as a prominent brand in Pakistan, delivering affordable and reliable motorcycles to meet the diverse needs of customers. The Ghani GI 70, with its 70cc engine, durability, and cost-effectiveness, stands as a testament to the brand's commitment to providing practical and efficient commuting solutions. With its enhanced graphics, the 2023 model further adds to the bike's appeal. So, head over to a Ghani dealership near you to experience the unmatched quality and performance of the Ghani GI 70 firsthand.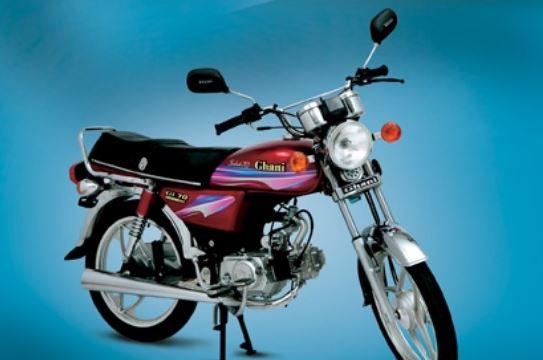 Engine & Performance:
The Ghani GI 70 is equipped with a robust 70cc single-cylinder, four-stroke, air-cooled engine, designed to provide reliable and efficient performance for everyday commuting and general-purpose riding. With its power output typically ranging from 6 to 7 horsepower at 8500 RPM and generating 7.0 Nm of torque at 6500 RPM, the Ghani GI 70 delivers adequate power for navigating city streets and maintaining moderate speeds. One of the standout features of the Ghani GI 70 is its exceptional fuel efficiency, allowing riders to enjoy cost-effective and economical journeys. The engine's smooth power delivery enables easy acceleration and maneuverability, making it well-suited for navigating congested city traffic. While the Ghani GI 70 may not offer the same level of long-lasting reliability and longevity as some other bikes, it compensates with its low-maintenance design. Regular maintenance checks and routine servicing are essential to keep the bike in optimal condition.
In terms of performance, the Ghani GI 70 can reach a top speed of approximately 85 kilometers per hour. It offers a fuel average of 50 kilometers per liter with a fuel tank capacity of 9.2 liters, allowing for extended rides without frequent refueling. The front suspension of the Ghani GI 70 features telescopic forks, designed to absorb shocks and bumps from the road surface. This suspension configuration ensures a smoother ride and improved handling by effectively dampening vibrations and impacts. At the rear, the Ghani GI 70 incorporates a swing arm design for its suspension system. It utilizes a coil spring and shock absorber to provide suspension travel, minimizing the impact of irregularities on the road surface and enhancing rider comfort. While the specific suspension travel may vary depending on the model year and any updates made by Ghani Motorcycles, the Ghani GI 70 typically offers limited suspension travel suitable for city commuting and basic riding conditions. The suspension setup strikes a balance between handling and comfort, providing a controlled and smooth ride over typical road surfaces.
As for the braking system, the Ghani GI 70 is equipped with drum brakes for both the front and rear wheels. Drum brakes are a commonly used braking technology in motorcycles, offering reliable stopping power for everyday riding situations. The front wheel of the Ghani GI 70 features a drum brake consisting of a brake drum, brake shoes, and a brake lever. When the rider applies the brake lever, the brake shoes press against the inner surface of the brake drum, generating friction and slowing down the wheel rotation. Similarly, the rear wheel of the Ghani GI 70 utilizes a drum brake system. By pressing the brake shoes against the brake drum, the rear brake provides effective braking force. While drum brakes may not offer the same level of stopping power as disc brakes, they are reliable and well-suited for typical riding conditions.
In conclusion, the Ghani GI 70 combines a sturdy 70cc engine with excellent fuel efficiency, making it an ideal choice for daily commuting and general-purpose riding. With its reliable drum brake system, telescopic front forks, and swing arm rear suspension, the Ghani GI 70 delivers a smooth and controlled ride over various road surfaces. Regular maintenance and servicing are essential to ensure optimal performance and longevity.
Exterior Design & Build Quality:
The Ghani GI 70 boasts a classic and timeless exterior design that has remained consistent over the years. Its aesthetic appeal is characterized by clean lines and a minimalist approach. The bike's exterior exudes a sense of durability and reliability, thanks to its robust tubular steel frame that provides structural integrity and enhances overall durability. The body panels of the Ghani GI 70 are designed to be sleek and understated, adding to its clean and streamlined appearance. The focus is on functionality and practicality, with minimal embellishments or unnecessary details. At the front end of the Ghani GI 70, you will typically find a round or rectangular headlight. This headlight not only serves the crucial purpose of providing ample illumination for nighttime riding but also adds to the bike's overall aesthetic charm.
The Ghani GI 70 features a well-proportioned body that accommodates an adequate amount of fuel, ensuring a reasonable riding range before refueling becomes necessary. The fuel tank may also display stylish graphics or decals, often showcasing the Ghani logo, adding a touch of branding to the bike's visual appeal. The seating arrangement on the Ghani GI 70 usually consists of a single-piece seat, designed to provide basic comfort during rides. The seat is often padded to offer a degree of cushioning, allowing riders to enjoy a reasonably comfortable experience. Moving to the instrument cluster, the Ghani GI 70 typically includes a speedometer as the primary gauge, enabling riders to monitor their speed while on the road. Additionally, basic indicators such as a fuel level gauge and indicator lights for turn signals and high beams are usually present, ensuring essential information is readily available to the rider.
While the Ghani GI 70 excels in terms of its classic design and functional features, it is important to acknowledge that some customers have expressed concerns about the bike's build quality. There have been complaints regarding certain aspects of the bike's construction, with customers expressing dissatisfaction with its perceived low quality. These concerns highlight the need for ongoing improvements in build quality to meet customer expectations.
Overall, the Ghani GI 70 presents a visually appealing package with its timeless design, functional features, and attention to practicality. However, it is crucial for the manufacturer to address concerns regarding build quality to ensure customer satisfaction and maintain a positive reputation in the market.
User Reviews:
The Ghani GI 70 is widely recognized for its budget-friendly price point, appealing to riders who prioritize affordability. It offers excellent mileage, making it a cost-effective choice for individuals seeking fuel-efficient transportation options. The Ghani GI 70's reputation for delivering good mileage reinforces its status as an economical motorcycle. One of the key advantages of the Ghani GI 70 is its affordability, not only in terms of the initial purchase price but also regarding ongoing maintenance costs. This aspect makes it an attractive option for riders who are mindful of their budget and seek a cost-effective mode of transportation.
The Ghani GI 70 features a straightforward and traditional design, which is appreciated by many riders. Its simplicity and classic aesthetics contribute to its charm, appealing to individuals who prefer a more traditional-looking motorcycle. However, it's worth noting that some riders have mentioned that the Ghani GI 70 may lack advanced features and technological advancements compared to higher-end motorcycles. This trade-off between advanced features and affordability is a compromise that customers need to consider when opting for the Ghani GI 70. While the Ghani GI 70 offers a budget-friendly solution, it's important to acknowledge that some customers have expressed concerns about its overall quality. These concerns indicate that the Ghani GI 70 may not meet the expectations of riders seeking higher-quality motorcycles. It is crucial for the manufacturer to address these concerns and strive for continuous improvements to provide a better overall experience to customers.
In summary, the Ghani GI 70 stands out as an affordable option with good mileage and low maintenance costs. Its straightforward and traditional design appeals to riders who value simplicity. However, customers should be aware that the Ghani GI 70 may lack advanced features and technology seen in higher-end motorcycles. Additionally, concerns regarding the bike's overall quality should be taken into consideration before making a purchase decision.
Pros:
Economical

Comfort Ride Quality

Quiet Engine
Cons:
Less Resale value

Underpowered
Major Competitors:
Super Asia 70
Sohrab JS 70
Hero RF 70