2023 Super Power SP 125
Sold in Pakistan = 2017-Present
Technolgy = Four-stroke (Euro-II), single-cylinder engine with kick-start technology (125cc)
2023 Super Power SP 125 Price in Pakistan
Super Power SP 125

1,75,000/-

PKR
For several decades, the Pirani Group of companies has been an esteemed presence in Pakistan, and within its diverse portfolio, Super Power stands out as a prominent subsidiary specializing in the manufacturing and distribution of motorbikes. Among its esteemed offerings, the Super Power SP 125 emerges as a shining star, incorporating cutting-edge Euro 2 technology in its 125 cc engine. Bolstered by improved suspension, this motorbike packs a punch when it comes to power, catering efficiently to daily commuting and city riding needs. One of the SP 125's standout features is its commendable fuel efficiency, earning it a reputation for being reliable and cost-effective. This trait allows riders to embark on long journeys without the frequent inconvenience of refueling stops. Beyond its practicality, the SP 125 is a visually stunning machine. Its sleek and sporty design showcases modern styling elements, featuring sharp lines and aerodynamic contours that exude a sense of dynamism.
The Super Power SP 125 is engineered to offer a comfortable riding experience, making it an ideal choice for both daily commuting and extended rides. The kick-start system ensures easy and convenient ignition, adding to the overall user-friendly nature of the bike. Moreover, its digital instrument cluster provides vital information at the rider's fingertips, displaying details such as speed, odometer readings, fuel gauge, and other essential data. Stepping into the year 2023, the Super Power SP 125 has received upgrades that further enhance its appeal. The introduction of new graphics on the fuel tank adds a fresh visual flair to the motorcycle. Moreover, the bike's build quality and suspension have been elevated to surpass the standards set by its competitors. Perhaps one of its most compelling aspects is its competitive pricing. The Super Power SP 125 offers all these impressive features at a lesser cost compared to its counterpart, the Honda 125, making it an attractive choice for budget-conscious consumers.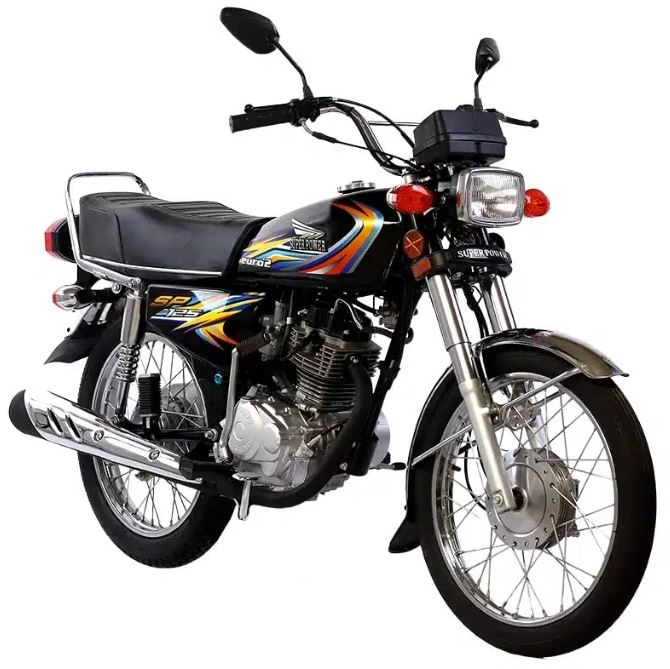 Super Power SP 125cc the Perfect Balance of Power and Efficiency:
The Super Power SP 125cc motorcycle has gained immense popularity as a go-to choice for daily commuting and city riding, owing to its harmonious combination of power and fuel efficiency. Its robust engine boasts an output of approximately 8 kW horsepower at 8500 RPM, providing ample strength for navigating urban roads and engaging in light highway rides. With a torque of 8.5 Nm at 7500 RPM and a four-speed transmission, the bike delivers a smooth and enjoyable ride performance. One of the bike's standout features is its commendable acceleration, perfectly suited for maneuvering through bustling city traffic. Its ability to swiftly reach moderate speeds allows riders to glide through congested roads with ease, enhancing the overall riding experience. Moreover, the Super Power SP 125 excels in fuel efficiency, a key advantage for daily commuters seeking an economical option. With an impressive fuel efficiency of 45 kilometers per liter, the bike offers a cost-effective solution to reduce refueling stops and expenses during routine rides.
While the Super Power SP 125cc can attain varying top speeds, it typically ranges from 90 to 100 kilometers per hour. However, the actual top speed may depend on several factors, including rider weight, road conditions, and the bike's overall condition. Adding to its user-friendly appeal, the bike incorporates kick-start technology, ensuring convenient and hassle-free engine ignition. Its lightweight construction further contributes to easy handling, making it a suitable choice for navigating through traffic and maneuvering in busy urban environments. As a result, the Super Power SP 125cc is also an excellent option for newer riders seeking comfort and confidence in their daily commutes. The Super Power SP 125cc motorcycle boasts a well-engineered suspension system, making it a favored choice for city commuting and leisurely rides. At the front, it features telescopic forks, comprising two telescoping tubes that smoothly slide within each other, adeptly absorbing shocks and ensuring a more comfortable and stable ride. This suspension setup strikes a balance between performance and stability, making it perfectly suited for navigating urban roads and casual cruising.
At the rear, the Super Power SP 125cc is equipped with dual shock absorbers that work in conjunction with the front forks, further enhancing the overall riding experience. The dual shock absorbers are a commonly found rear suspension configuration in commuter motorcycles, contributing to a balanced and pleasant ride quality. Undeniably, the suspension system in any motorcycle plays a pivotal role in cushioning the rider from shocks and vibrations experienced on the road. As a result, it not only enhances rider comfort but also improves overall control and handling. While the Super Power SP 125cc's suspension is designed to handle typical road conditions admirably, it's important to note that the actual riding experience may vary based on factors like the quality of road surfaces, the rider's weight, and the motorcycle's maintenance. In the braking department, the Super Power SP 125cc employs a combination of a front disc brake and a rear drum brake. Disc brakes, utilizing a rotor and caliper system, offer robust and efficient stopping power. They excel in heat dissipation and responsiveness compared to drum brakes, making them an ideal choice for improved braking performance, especially during more demanding situations. On the other hand, the rear drum brake employs a simpler design, utilizing brake shoes pressing against the inside of a drum-shaped housing to generate friction and slow down the bike. This setup offers a well-balanced blend of braking performance and cost-effectiveness, perfectly aligning with the needs of daily commuters and city riders.
Super Power SP 125: A Striking Blend of Style and Comfort:
The Super Power SP 125 boasts a captivating design, with an aerodynamically crafted front fairing that not only elevates its appearance but also optimizes wind efficiency, reducing drag while riding. Ensuring safety during night rides and low-light conditions, the bike features a stylish and bright headlamp, providing excellent visibility on the road. The bodywork of the SP 125 may showcase sporty decals or graphics, adding a touch of flair and enhancing its overall visual appeal.
Designed with both aesthetics and rider comfort in mind, the fuel tank exhibits a sculpted design, facilitating a comfortable knee grip and exuding a modern look. The bike's seating arrangement is equally considerate, with a well-padded seat for both the rider and passenger, ensuring a pleasant experience on longer journeys. Complementing the overall design, the Super Power SP 125cc incorporates lightweight and stylish alloy wheels, not only enhancing the bike's aesthetics but also contributing to improved handling and performance. The side panels feature dynamic angular lines and contours, further accentuating the bike's sporty appearance. Even the turn signal indicators add to the bike's contemporary design with their clear-lens type, displaying a commitment to modern styling throughout the motorcycle.
User Reviews:
The Super Power SP 125 has garnered user satisfaction primarily due to its impressive fuel economy, performance, and value for money. In real-world conditions, the bike delivers an excellent mileage of 55 to 60 kilometers per liter, surpassing its competitors. Riders appreciate the bike's economical price, which doesn't compromise on performance. However, some users have expressed concerns about its built quality, finding it inferior to Honda bikes. Additionally, the resale value of the SP 125 is comparatively lower than other popular brands, which is a consideration for potential buyers. Some riders also find the seat a bit uncomfortable during long rides.
Despite these drawbacks, many believe that if these areas are improved, the Super Power SP 125 has the potential to become one of the most sought-after 125cc bikes in the market. With its already impressive fuel efficiency and performance, addressing the concerns about built quality, resale value, and seat comfort could elevate its overall appeal and popularity among riders.
Pros & Cons:
Pros:
Cutting-edge Euro 2 technology
Improved suspension for better ride quality
Commendable fuel efficiency
Visually stunning and modern design
Comfortable riding experience
Convenient kick-start system
Digital instrument cluster for vital information
Competitive pricing compared to Honda 125
Cons:
Built quality concerns
Lower resale value compared to popular brands
Some users find the seat uncomfortable for long rides
Major Competitors: