2023 Ravi Premium R1 
Sold in Pakistan: 2015-Present
Technology: 4-stroke, air-cooled, single-cylinder engine
2023 Ravi Premium R1 Motorcycle Price in Pakistan
| | |
| --- | --- |
| Ravi Premium R1 | 103,500/- PKR |
Ravi Automobiles Private Limited is known for its state-of-the-art motorcycle assembly line and is the only distributor of Piaggio Italy products in Pakistan. It has introduced Euro II engines in the 125cc class of motorcycles. The Ravi Humsafar has been one of the most loving 70cc bikes on the market, and its premium addition is another demanding bike that offers more features. The Ravi Premium R1 is engineered to give you an ultramodern look. It is the most aerodynamically sound bike. The Ravi Premium R1 has a futuristic design that attracts every customer. The looks and style of Ravi Premium R1 are unique from traditional 70cc bikes, and its price is reasonable according to its looks. The engine and performance of Ravi Premium R1 are similar to all other 70cc bikes, but it differentiates from them in its innovative style that appeals to every eye. The Ravi Premium R1 has beautiful graphics and is available in red, black, grey, and blue color options. The fuel efficiency is good, and it gives a good ride quality. The Ravi Premium R1 has a new seat that is more comfortable than before. The Ravi Premium R1 is the best choice if you are looking for an economical bike that is comfortable and offers good ride quality at the same time.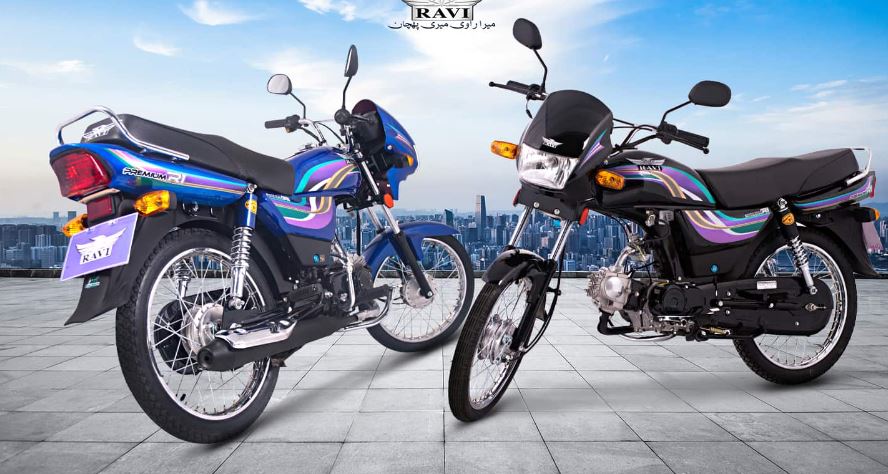 Engine & Performance:
The Ravi Premium R1 gets its power from a 4-stroke, air-cooled, single-cylinder engine with a displacement of 78cc. It generates a maximum horsepower of 7.0 PS at 6500 RPM and a torque of 5.4 Nm at 6500 RPM. It offers a 4-speed constant mesh transmission with all forward gears, and gears are changed very smoothly, so the ride quality is not affected. It has a wet-type multi-plate clutch operated by the left hand. The Ravi Premium R1 has a capacitor discharge ignition system and a 12V battery. It comes with drum brakes with expanding shoes at the front and rear, and the brakes work fine without giving you a jerky ride. The suspension system is tuned well and keeps the quality of the ride high. It offers a kick-start technology and switches the engine with a single kick. The self-start mechanism is not available in Ravi Premium R1. It competes with Power PK70, ZXMCO ZX 100, and Pak Hero PH 70. The utility of Ravi Premium R1 is diverse, and it gives you excellent ride quality for within-city travel and for traveling long distances.
Mileage & Top Speed:
The Premium Ravi R1's air-cooled engine is smoke-free and claims budget-friendly fuel economy. It comes with a fuel tank capacity of 10 liters and a mileage of 55 kilometers in one liter. It gives you a top speed of 80-100 kilometers per hour. It provides excellent ride quality even at this speed and does not produce any vibrations.
Exterior Design & Build Quality:
The attractive design of Ravi Premium R1 makes it stand out among competitors. It has an aerodynamic design and attracts young bikers. It has a length of 1885 millimeters, a width of 760 millimeters, and a height of 990 millimeters with a ground clearance of 135 millimeters. It has a net weight of 82 kilograms and ensures maximum road stability with excellent handling. The graphic stickers on the fuel tank and side covers look vibrant and attract every eye. It is available in 4 color options. It has a backbone-type sheet metal frame that gives it durability. The seat has an aerodynamic shape and is improved from the previous model. The seat height is sufficient, and comfort is ensured because of its aerodynamic shape and soft cushion. The rider can ride the bike comfortably while the back passenger sits at the back with equal ease and support. The dual dial speedometer of Ravi Premium R1 looks sporty and has an excellent design with clear graphics that attract customers. The front headlamp looks sporty and is unique from other 70cc bikes that enhance its beauty. The bike's build quality is also good, and its parts are durable, but if you want its spare parts, they are readily available.
USER Reviews:
Ravi Automobiles Private Limited has a good reputation in the market, and the customers also love its Ravi Premium R1. The Ravi Premium R1 has decent ride quality and gives good mileage. Users are satisfied with its performance and love their riding position, which is perfect for the riders. It provides comfort to the riders for long-distance travel, and the road grip is also impressive, even on uneven roads. Users are satisfied by the fuel efficiency, and they get 50 kilometers in one liter which is exceptional in an era of inflation. The Ravi Premium R1's design is one of the most attractive features when purchasing a new bike. All young bikers are attracted to Ravi Premium R1. The resale value of Ravi Premium R1 is promising, and its spare parts are available easily throughout the country. The customer service of Ravi motors is good, and users are satisfied with it. You can also opt for the home delivery option of the bike, but extra charges are added to the bill.
Verdict:
It is a bit higher than its competitors, but its sporty looks and excellent design justify its price.
Major Competitors: