Sohrab JS 70 (2002-2009)
Sold in Pakistan = 2002-2009
Technology = Air Cooled, carburetor engine
Status =

Discontinued
Sohrab JS 70 Last price in Pakistan
| | |
| --- | --- |
| Sohrab JS 70 | 35,000/- PKR |
Sohrab Motors, a renowned company established in Pakistan in 1953, has been a prominent player in the manufacturing of bicycles and spare parts. Initially, the company relied on imported spare parts, but later on, Sohrab Motors ventured into local manufacturing. Alongside bicycles, Sohrab Motors expanded its product range to include motorbikes, and its first offering in this category was the Sohrab JS 70. The Sohrab JS 70 is a locally produced motorbike equipped with a 70cc engine. One of its standout features is its affordability, as it is available at a comparatively lower price compared to other 70cc bikes in Pakistan. However, despite its attractive pricing, the Sohrab JS 70 faced significant challenges in gaining widespread demand. This can be attributed to the intense competition in the market, where dealers often provide enticing packages for higher-end branded bikes.
Designed as a simple and lightweight motorbike, the Sohrab JS 70 is well-suited for daily commuting and short-distance travel. It serves as an accessible option for individuals seeking a budget-friendly motorcycle. The JS 70 is fuel-efficient, enabling riders to reduce their fuel expenses and making it a cost-effective choice for daily transportation needs. Sohrab Motors has built a longstanding reputation for producing reliable motorcycles, and the JS 70 upholds this tradition. It is known for its durability and ability to withstand rough road conditions, making it suitable for various terrains. Having operated in Pakistan for a considerable period, Sohrab Motors ensures relatively good availability of spare parts for the JS 70. This factor contributes to easier and more affordable maintenance and repairs. With its lightweight design, the JS 70 offers excellent maneuverability and handling in city traffic and congested areas. It caters to riders of different skill levels, providing a comfortable and convenient riding experience.
In conclusion, Sohrab Motors has been a prominent player in the Pakistani market since 1953, primarily known for its bicycles and spare parts. The company expanded its operations to include motorbike production, and the Sohrab JS 70 became its initial offering in this segment. Although facing stiff competition, the JS 70 stands out for its affordability, fuel efficiency, durability, and availability of spare parts. Its lightweight design makes it suitable for various riding conditions, catering to riders of different skill levels.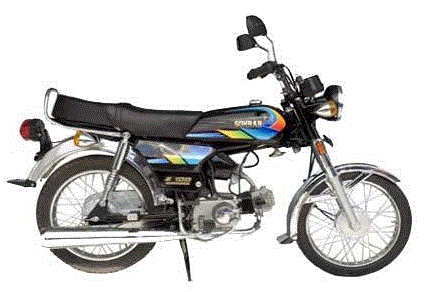 Engine & performance:
The Sohrab JS 70 is equipped with a 70cc 4-stroke single-cylinder engine, providing a balanced combination of power and efficiency for urban riding. The 70cc engine displacement refers to the total volume of all the cylinders in the engine. Being a single-cylinder engine means it has only one cylinder where the combustion process occurs. This configuration is common for motorcycles in the 70cc category. As a 4-stroke engine, the JS 70 engine completes its power cycle in four strokes: intake, compression, combustion, and exhaust. This design contributes to smoother power delivery, improved fuel efficiency, and reduced emissions compared to 2-stroke engines. The specific power and performance figures may vary depending on the model year and any updates made by Sohrab Motors, but generally, the JS 70 engine offers sufficient power for city riding and short-distance commuting.
The engine is typically paired with a 4-speed manual transmission system, enabling riders to shift gears smoothly and efficiently to match their desired speed and road conditions. With an average fuel tank capacity of 9 liters, the JS 70 can achieve an average of 35 kilometers per liter, which may vary depending on riding conditions and individual riding style. It can reach a top speed of around 80 kilometers per hour. To start the bike, the JS 70 features a kick-start technology. This involves using a lever to kick down on a pedal, which rotates the engine and initiates the combustion process. This kick-start method is commonly found in motorcycles with smaller engine displacements. In terms of suspension, the JS 70 typically incorporates a front suspension system with telescopic forks. Telescopic forks consist of a pair of fork tubes that slide inside each other, providing damping and absorbing shocks and bumps from the road. This suspension setup enhances rider comfort, especially when traversing uneven surfaces.
Overall, the Sohrab JS 70 offers a 70cc 4-stroke single-cylinder engine with sufficient power for city riding and short-distance commuting. Its transmission system allows for smooth gear shifting, while it's fuel efficiency and comfortable suspension contribute to an enjoyable riding experience.
The Sohrab JS 70 is designed to provide stability and control during riding, and its suspension and braking systems play a crucial role in achieving this. The rear suspension of the JS 70 generally utilizes a swing arm suspension system. This system employs a swing arm that connects the rear wheel to the frame, allowing it to move up and down. The swingarm is typically accompanied by twin shock absorbers, which provide damping and contribute to improved ride quality. These shock absorbers absorb the shocks and vibrations from uneven road surfaces, enhancing the overall stability and comfort of the ride. In terms of braking, the JS 70 is equipped with a braking system that delivers adequate stopping power and control. The front brakes of the JS 70 are drum brakes, which operate by using friction to slow down or stop the rotation of the wheel. The drum brake system consists of a drum-shaped housing, brake shoes, and a mechanism that activates the brake shoes when the brake lever is pressed. This setup allows for effective braking performance and reliable control over the front wheel. Similarly, the rear brake of the JS 70 typically employs a drum brake setup. The rear drum brake relies on friction to slow down or stop the rotation of the rear wheel. The rear drum brake system works in conjunction with the front brake to provide a balanced braking performance, ensuring consistent and controlled deceleration.
Drum brakes are commonly found on motorcycles in the lower engine displacement range, such as the Sohrab JS 70. While they may not offer the same level of stopping power as disc brakes, drum brakes are generally reliable for everyday riding conditions. They provide sufficient braking capability and are well-suited for urban commuting and shorter distances.
Overall, the Sohrab JS 70 features a swing arm rear suspension system with twin shock absorbers, contributing to stability and improved ride quality. The drum brake system on both the front and rear wheels ensures adequate stopping power and control, making the JS 70 a suitable choice for everyday riding needs.
Exterior Design & Build Quality:
The Sohrab JS 70 is known for its simple and functional exterior design, which is commonly seen in 70cc motorcycles. The motorcycle typically features a tubular frame that provides structural integrity and support while keeping the weight of the bike manageable. The body panels are usually made of lightweight materials, contributing to the overall lightness of the motorcycle. The JS 70 incorporates a fuel tank that is positioned between the rider's seat and the handlebars. It has a capacity that allows for a decent fuel range, ensuring riders can cover a reasonable distance before refueling. The fuel tank is designed with smooth contours, enhancing the visual appeal of the motorcycle.
In terms of seating, the JS 70 typically features a single-seat design, accommodating one rider. The seat is usually well-padded to provide comfort during daily commutes and rides. The handlebars are positioned in an upright manner, offering a comfortable riding position that is suitable for urban commuting. The controls on the JS 70, including the throttle, brake levers, and switches, are positioned conveniently for easy access and operation. This design ensures that riders can comfortably control the motorcycle while maintaining focus on the road. At the front of the JS 70, there is typically a round headlight that provides illumination for night riding and enhances visibility. Additionally, the motorcycle may feature turn indicators and a taillight at the rear to ensure visibility and safety on the road. The instrument cluster on the JS 70 is usually a basic analog design. It commonly includes a speedometer to monitor the speed of the motorcycle, an odometer to track the distance traveled, and a fuel gauge to keep track of the fuel level. Additionally, the instrument cluster may incorporate indicator lights to provide essential information about the motorcycle's functions and status.
Overall, the Sohrab JS 70 boasts a simple and functional exterior design, featuring a tubular frame, lightweight body panels, a well-positioned fuel tank, comfortable seating, and convenient controls. The motorcycle is equipped with necessary lighting elements and a basic analog instrument cluster for essential information.
User Reviews:
The affordability of the Sohrab JS 70 is one of its standout features and a key factor that attracts riders. With a relatively low purchase price compared to other motorcycles, the JS 70 is considered a cost-effective option for those seeking basic transportation without breaking the bank. This affordability makes it accessible to a wide range of individuals, including students, daily commuters, and budget-conscious riders. Fuel efficiency is another aspect that riders appreciate about the JS 70. With rising fuel prices, having a motorcycle that provides good mileage is highly desirable. The JS 70 is known for its fuel-efficient performance, allowing riders to save on fuel costs and maximize their commuting budgets. This aspect makes it an attractive choice for those who frequently travel short distances or have a daily commute within the city.
The simplicity of the JS 70's design and mechanical components also contributes to its appeal. Its straightforward construction and components make it relatively easy to maintain. This can be beneficial for riders who prefer to perform basic maintenance tasks themselves or for those who want to keep maintenance costs low. The availability of spare parts for the JS 70 is generally good, making it easier and more affordable to find replacements when needed.
Overall, the Sohrab JS 70's affordability, fuel efficiency, and ease of maintenance make it an attractive option for individuals seeking a cost-effective and practical means of transportation. Its simplicity and reliability have garnered a loyal following among riders who value affordability and economical commuting options.
Major Competitors:
Super Asia 70
Sohrab JS 70
Hero RF 70