2023 Ravi JapTECH 70cc
Sold in Pakistan = 2023-Present
Engine = 70cc Single Cylinder Four Stroke Air Cooled
2023 Ravi Japtech Price in Pakistan
Ravi Japtech 70 cc

105,500/-

PKR
Ravi JapTECH is a highly sought-after product in Ravi's lineup, specifically designed to cater to the 70cc segment of the motorcycle market. In Pakistan, the 70cc category of motorcycles is widely favored due to its exceptional fuel efficiency, affordability, and suitability for daily commuting purposes. Ravi JapTECH 70cc bike perfectly aligns with these requirements, aiming to meet the needs of budget-conscious consumers who seek a reliable and economical mode of transportation. The name "JapTECH" itself conveys that this bike has been crafted with Japanese-inspired technology, setting it apart from its competitors. The Ravi JapTECH boasts a brand-new engine equipped with cutting-edge Japanese technology, ensuring efficient and optimal performance. Moreover, its robust steel sheet frame not only enhances durability but also guarantees excellent build quality, ensuring that the bike can withstand the rigors of everyday use.
To provide a comfortable and effortless riding experience, the Ravi JapTECH comes equipped with premium quality shocks, reducing impact and making the journey smoother. While the bike's overall appearance bears resemblance to the traditional 70cc models in Pakistan, it distinguishes itself with its superior technological advancements and refined performance. Notably, the Ravi JapTECH stands out as a budget-friendly option with a commendable resale value. In addition, the availability of spare parts nationwide ensures that maintaining and servicing the bike is hassle-free. Recognizing the importance of reliability, Ravi offers a generous warranty period of 10 months for the JapTECH model, providing customers with peace of mind and assurance. To acquire your very own Ravi JapTECH, you can conveniently book it through any of Ravi's extensive dealership networks across the country. Whether you reside in the bustling city or the remote countryside, Ravi ensures that you can easily access and enjoy the benefits of their popular JapTECH 70cc bike.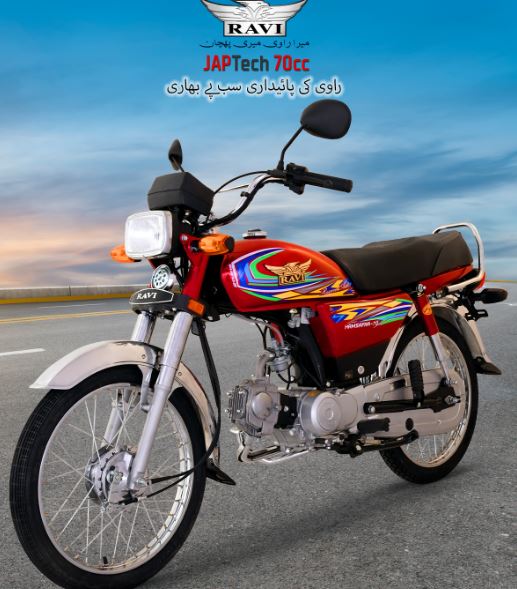 72cc Single Cylinder, 4 Stoke
New Japanese Technology Engine
Special Premium Quality Shocks
 Ravi Sheet Metal Frame
Special High Quality Wheel Hubs
10-months / 10,000km Warranty
The Ravi JapTECH 70cc: A Reliable and Economical Riding Companion:
The Ravi JapTECH 70cc motorcycle is designed to provide a reliable and economical riding experience. Its engine, with a displacement of around 72cc, features a single-cylinder configuration and operates on a four-stroke mechanism. The preference for a four-stroke engine in the JapTECH 70cc is due to its enhanced fuel efficiency and cleaner emissions, making it a popular choice among riders. The engine is equipped with an air-cooled system, which is commonly found in motorcycles with smaller displacements. This design choice simplifies the overall structure and reduces maintenance requirements, ensuring hassle-free ownership for riders. The manual transmission in the Ravi JapTECH 70cc is equipped with multiple gears, typically offering 4 or 5-speed options. This enables riders to adapt to various riding conditions and terrains, delivering smooth and controlled performance. The versatility of the manual transmission enhances power delivery, making the JapTECH 70cc ideal for both city commuting and longer journeys.
To provide a comfortable and stable ride, the Ravi JapTECH 70cc employs a suspension system that strikes a balance between performance and cost-effectiveness. The front suspension utilizes telescopic forks, a popular choice for motorcycles in this segment. Telescopic forks offer decent damping capabilities and ensure a comfortable ride, particularly in urban environments. At the rear, the JapTECH incorporates twin shock absorbers, commonly referred to as dual shocks. These twin shock absorbers are mounted to the frame and provide adequate support and damping for lightweight 70cc motorcycles. While the suspension system in the JapTECH 70cc may not be as sophisticated or adjustable as those found in higher-end or performance-oriented motorcycles, it efficiently handles typical road conditions, offering riders a smooth and controlled experience.
When it comes to braking, the Ravi JapTECH 70cc is equipped with a reliable and practical drum brake system. Both the front and rear brakes employ drum brakes, which are commonly used in smaller and more affordable motorcycles. Drum brakes consist of a drum-shaped brake housing that contains brake shoes. When the rider applies the brake lever or pedal, the brake shoes expand inside the drum, creating friction and slowing down the wheels. Drum brakes are known for their reliability and minimal maintenance requirements, making them suitable for economical and budget-friendly motorcycles like the Ravi JapTECH 70cc.
The Ravi JapTECH 70cc: A Stylish and Efficient Urban Companion:
The Ravi JapTECH 70cc motorcycle features a traditional design that is reminiscent of 70cc bikes. However, the latest model incorporates new graphic stickers that enhance its overall appeal. With a focus on lightweight construction and compact dimensions, the JapTECH is optimized for easy maneuverability in city traffic, making it an excellent choice for daily commuting. The bike's aesthetic is geared towards attracting younger riders, with sporty and dynamic designs that exude a sense of energy. Its sharp lines, angular fuel tank, and stylish decals contribute to its overall contemporary look.
In terms of functionality, the Ravi JapTECH 70cc boasts an aerodynamically designed front end, aimed at reducing wind resistance and improving fuel efficiency. The presence of alloy wheels further enhances the bike's performance by striking a balance between strength and reduced weight compared to traditional spoke wheels. This combination provides riders with enhanced stability and agility on the road. To ensure rider comfort during short to medium distances, the JapTECH 70cc features a well-designed seat that promotes a relaxed riding position. Additionally, the incorporation of LED lighting not only improves visibility for both the rider and other road users but also reduces power consumption, contributing to a more efficient and eco-friendly riding experience. Keeping riders informed, the JapTECH 70cc comes equipped with a digital instrument cluster that displays essential information such as speed, fuel level, and odometer readings. This allows riders to stay updated on vital metrics and make informed decisions during their journeys.
The Ravi JapTECH 70cc: Japanese Engineering for Unmatched Build Quality:
The Ravi JapTECH 70cc bike is known for its commendable build quality, thanks to the utilization of Japanese technology and a sturdy steel frame. The incorporation of Japanese engineering ensures that the bike is well-built and durable, surpassing other motorcycles in the 70cc segment. The engine, specifically designed with Japanese technology, not only delivers efficient performance but also positions the JapTECH 70cc as a superior choice among its counterparts. Moreover, the steel frame adds to the bike's durability, providing robustness and stability during rides. With its strong foundation and reliable components, the Ravi JapTECH 70cc exemplifies a well-constructed motorcycle that is suitable for daily commuting and offers long-lasting performance.
The Ravi JapTECH 70cc (User Reviews): Fuel Efficiency, Affordability, and User Satisfaction:
The Ravi JapTECH 70cc bike has garnered praise from users for its impressive Japanese technology and overall performance. Users particularly appreciate the bike's fuel efficiency, which helps them save on fuel costs, and its affordable price point, making it accessible to budget-conscious riders. The ten-month warranty period offered by Ravi is also well-received, as customers tend to prefer bikes with longer warranty coverage.
In terms of aesthetics, users find the Ravi JapTECH 70cc bike visually appealing, appreciating its stylish looks and overall quality. The bike's good resale value is another attractive feature, influencing customers' purchasing decisions. However, some users have expressed concerns about the bike's performance on uneven streets, citing discomfort in such conditions. Nonetheless, the Ravi JapTECH 70cc remains a popular choice for short-distance travel and daily commutes due to its reliable performance and functionality
Major Competitors: